MEC-COM-M334 (Mini-PCIe, 4x RS-232/422/485)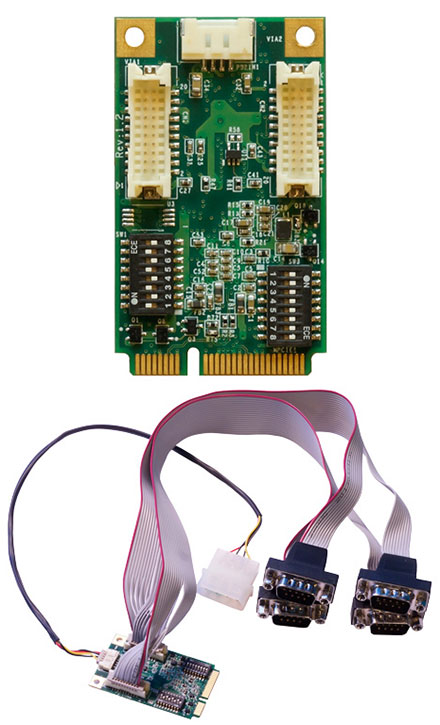 4x RS-232/422/485
15KV ESD protection
FIFO 128 Bytes
5V or 12V power output
Successor model of MEC-COM-M134.

MEC-COM-M334 is a serial communication card for embedded PC. The card follows the Mini PCI-e standard which is complaint with PCI Express x 1 classification and small form factor (30.00 x 50.95 mm). This board fits in any host computer that has Mini PCI-e card slots.

Top Performance
MEC-COM-M334 has 4 RS-232/422/485 serial ports, each individual port supports 921.6 Kbps baud rate. The combination features 15KV ESD protection, FIFO 256 Bytes, HW/SW automated flow control and extended operating temperature which enhances the board's reliability and performance.

High Usability
MEC-COM-M [more]



98.00

EUR


incl. 19% VAT, plus shipping


In Stock (1 pcs)
Successor model of MEC-COM-M134.

MEC-COM-M334 is a serial communication card for embedded PC. The card follows the Mini PCI-e standard which is complaint with PCI Express x 1 classification and small form factor (30.00 x 50.95 mm). This board fits in any host computer that has Mini PCI-e card slots.

Top Performance
MEC-COM-M334 has 4 RS-232/422/485 serial ports, each individual port supports 921.6 Kbps baud rate. The combination features 15KV ESD protection, FIFO 256 Bytes, HW/SW automated flow control and extended operating temperature which enhances the board's reliability and performance.

High Usability
MEC-COM-M334 is designed with flexibilities for many different applications. The Serial RS- 232/422/485 mode and power output can be configured by DIP switches. The accessories (bracket, connection / power input cable) are included in the standard package.


General
PCI-Express Revision
PCI-Express Base Specification Rev 2.0
 
PCI-Express
Electromechanical Revision
PCI-Express Mini Card Electromechanical
Rev. 2.0
Hardware
Controllers
XR17V354 (16C550C compatible)
 
Bus
Single-Lane (x1) PCI-Express with throughput up to 5.0 / 2.5Gbps
Interface (Connector)
RS-232 / 422 / 485
4 (DB9 male)
Serial Line Protection
ESD Protection
15 KV on board
Serial Port Power 
Voltage Select
5V or 12V
Performance
Baud Rate
Asynchronous baud rates up to 921.6 Kbps 
Dimensions
Width x Length (mm)
30.00 x 50.95
Serial Communication Parameters
Data Bits
5, 6, 7, 8
 
Stop Bits
1, 1.5, 2
 
Parity
No Parity bit
Odd Parity bit
Even Parity bit
Parity bit forced to 1
Parity bit forced to 0
 
Flow Control
RTS/CTS, XON/XOFF
Environmental Limits
Operating Temperature
-40°C ~ 85°C
 
Storage Temperature 
-40°C ~ 85°C
 
Humidity
5% ~ 95%
Serial Signals
RS-232
TXD, RXD, RTS, CTS, DTR, DSR, DCD, GND, RI
 
RS-422
TXD+, TXD-, RXD+, RXD-
 
RS-485
DATA+, DATA-
Regulatory Approvals
EMC
CE, FCC
 
EMI 
EN 55022, EN61000-3-2, EN61000-3-3,
FCC Part 15 Subpart B Class B
 
EMS
En 55024, IEC 61000-4-2, IEC 61000-4-3,IEC 61000-4-4, IEC 61000-4-5, IEC 61000-4-6,IEC 61000-4-8, IEC 61000-4-11
Driver Support
Operating Systems
Win 2000, Win XP, Win Vista, Win 7,
Win 8, Win 10 
Power Requirement
Power Consumption
645mA@3.3V
Reliability
MBTF
1,631,268 hr
Please
login
for creating product ratings.
Your rating:
Please tell us your opinion. Rate the product on a scale from 1 to 5. A value of 5 means the best possible rating. If you want you also can leave a comment.

Your ratings are honored on many ways. Your report will help other customers to better judge about the products. And you can benefit from reports other customers are giving.

In addition we credit 0.50 EUR for each given rating with comment and 1.00 EUR for each given rating with comment (more than 150 characters) on your account. The credit will be substracted automatically on your next order !

We reserve us the right to delete given comments (for example on attempts to give comments with senseless content, copying of other comments, inserting of foreign content, abusing the system for financing orders). "Fair-use-policy" does apply (as of rule of thumb you should give comments for products which you have purchased already. And your credit account only in rare cases will have 2 or even 3 digits). The credit can only be withdrawn by placing an order. It is not possible to get the credit cash or transferred in an other way.
Description
Specifications
Data sheets and downloads
Customer ratings