AVerMedia EN715-BBC3-0000 CarrierBoard (for NVIDIA Jetson Nano/Xavier NX)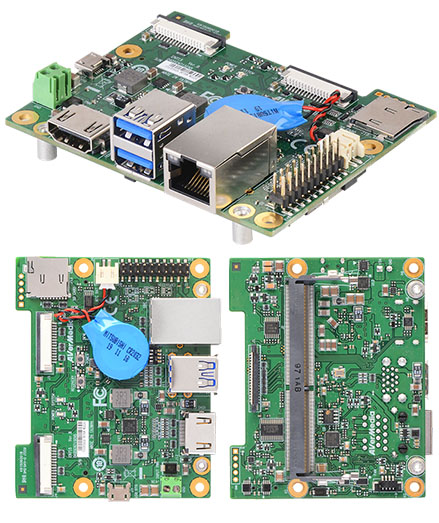 AVerMedia AVerAI carrier board EN715 is designed for NVIDIA® Jetson Nano™ (Version B01)/ Xavier™ NX module and for the industry applications in the environment with the high physical space concern and operation in the temperature range from 0°C to 70°C. It features the very compact dimensions of 70.6mm (L) x 87mm (W) x 27.3mm (H), with four Ø 3.2 mounting holes for the highly reliable field installation.
AVerAI EN715 can provide the access to a list of rich I/O functions, which includes 2x 2 Lane MIPI CSI-2, 1x 4 Lane MIPI CSI-2 MIPI Camera Input, 1x 4Kp60 HDMI output, 2x USB 3.0, 1x GbE RJ-45, 20-pins GPIO expansion, 1x Micro SD card slot, and 1x Micro-B USB 2.0 for [more]



169.00

EUR


incl. 19% VAT, plus shipping


Available in 3 weeks
AVerMedia AVerAI carrier board EN715 is designed for NVIDIA® Jetson Nano™ (Version B01)/ Xavier™ NX module and for the industry applications in the environment with the high physical space concern and operation in the temperature range from 0°C to 70°C. It features the very compact dimensions of 70.6mm (L) x 87mm (W) x 27.3mm (H), with four Ø 3.2 mounting holes for the highly reliable field installation.
AVerAI EN715 can provide the access to a list of rich I/O functions, which includes 2x 2 Lane MIPI CSI-2, 1x 4 Lane MIPI CSI-2 MIPI Camera Input, 1x 4Kp60 HDMI output, 2x USB 3.0, 1x GbE RJ-45, 20-pins GPIO expansion, 1x Micro SD card slot, and 1x Micro-B USB 2.0 for recovery. It also comes with a single-mold PCB terminal block module for the easy power connection.
With the compact dimensions, design for reliable field installation, and the rich I/O functions, EN715 is the best cost-effective choice for AIoT edge computing in the intelligent video analytics applications of Smart Retail, Smart Camera, Smart Medical and Smart City.

Fully support NVIDIA® Jetson Nano™ (Version B01)/Xavier™ NX module
1x GbE, 2x USB 3.0, 1x 4Kp60 HDMI outputs
2x 2 Lane MIPI CSI-2
1x 4 Lane MIPI CSI-2
20-pin Expansion header
1x micro-SD card slot
Operating temperature: 0°C ~ 70°C
Dimension: 87mm x 70.6mm x 27.3mm
| | |
| --- | --- |
| Model | EN715 |
| Type | Carrier Board |
| NVIDIA GPU SoC Module Compatibility | NVIDIA® Jetson Nano™ (Version B01)/Xavier™ NX module   |
| Networking | 1x GbE RJ-45 |
| Display Output | 3840 x 2160 at 60Hz |
| Temperature | Operating temperature 0°C~70°C Storage temperature -40°C ~ 85°C Relative humidity 40 °C @ 95%, Non-Condensing |
| MIPI Camera Inputs | •       2x 2 lane MIPI CSI-2, 15 pin FPC 1mm Pitch Connector (Compatible  on NVIDIA® Jetson Nano™ Developer Kit) •       1x 4 lane MIPI CSI-2, 36 pin FPC 0.5mm Pitch Connector |
| USB | 1x USB 2.0 Micro-B for recovery 2x USB 3.0 Type-A |
| Storage | 1x micro-SD card slot |
| Expansion Header | 20 pins: 2x I2C, 1x UART, 9x GPIOs |
| Input Power | 3.5mm Screw Terminal; 9V~19V is recommended.     |
| Buttons | Power and Recovery |
| RTC Battery | Support RTC battery and Battery Life Monitoring by MCU |
| PCB/Electronics Mechanical Info | W: 87mm x L: 70.6mm x H: 27.3mm (3.43" x 2.78" x 1.07") Weight: 70g          |
| Certifications | CE, FCC, KC           |
Please
login
for creating product ratings.
Your rating:
Please tell us your opinion. Rate the product on a scale from 1 to 5. A value of 5 means the best possible rating. If you want you also can leave a comment.

Your ratings are honored on many ways. Your report will help other customers to better judge about the products. And you can benefit from reports other customers are giving.

In addition we credit 0.50 EUR for each given rating with comment and 1.00 EUR for each given rating with comment (more than 150 characters) on your account. The credit will be substracted automatically on your next order !

We reserve us the right to delete given comments (for example on attempts to give comments with senseless content, copying of other comments, inserting of foreign content, abusing the system for financing orders). "Fair-use-policy" does apply (as of rule of thumb you should give comments for products which you have purchased already. And your credit account only in rare cases will have 2 or even 3 digits). The credit can only be withdrawn by placing an order. It is not possible to get the credit cash or transferred in an other way.
Description
Specifications
Data sheets and downloads
Customer ratings