FleetPC-3 module CAN-BUS, Digital I/O, SRAM (PCI 104)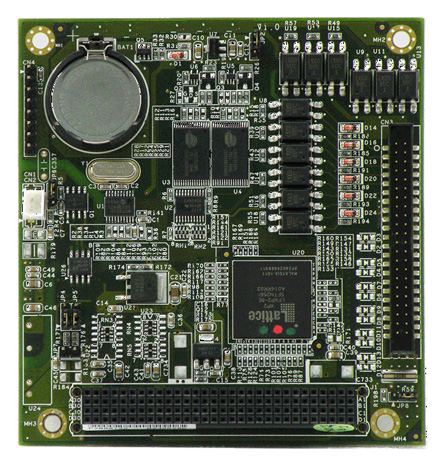 CAN Bus !
12 channel I/O !
39.00

EUR


incl. 19% VAT, plus shipping


In Stock (3 pcs)
 
PCI104 digital I/O, SRAM disk & CAN bus module
PCB
4-layer PCB
General
 
Bus interface
PCI 104, PCI 2.0 compliant
Controller
FPGA & Standalone CAN controller
SRAM disk
- 2 x 512KB low power SRAM
- 1M Byte as one bank
- Battery backup by optional module
- Battery power consumption: less than 15uA
- Operation modes:
A. Memory Mode
i. Independent mode
ii. Replicate mode
B. Disk Mode (is only supported in Linux)
C. Mode selection through Jumper (factory default disk mode)
Digital Input
- 12 channels
- Internal pull up
- Programmable de-bounce time (0 ms to 255ms, 1 ms resolution). True after X ms of constant state.
- Support Change of State interrupt
- 5000Vrms optical isolation
- Response time: 20uS (without de-bounce)
- Rising trigger or falling trigger
- Suggested maximum input frequency 10KHz( duty = 50% ).
- Signal input :
A. Open/Ground switch input
B. Digital Logic
i. Logic High: 3V to 28V
ii. Logic Low: 0V to 1.5V
Digital Output
- 12 channels
- Output Type: Open drain MOSFET driver
- Output voltage range: 5V to 30V
- Sink Current: maximum 500mA each channel
- Power on initial state: MOSFET off
- Support pulse generator :
A. Programmable cycle time, duty cycle and number of cycles. User defines on and off periods (maximum 8-bit for on and off period value).
B. Maximum 65535 cycles
C. RUN & STOP command
D. Resolution: 1 ms, 100ms and 1 second
Timer
- 12 x independent 16-bit timers
- Support Time Out Interrupt
- Resolution: 1 ms and 100ms second(Resolution: 1ms, and 100ms)
Counter
- 12 x independent 16-bit counters
- Connect to all digital inputs
- Operation Mode:
a. Count to number interrupt.
b. Read and clear
c. Read on the fly
d. Auto stop counting after programmable constant state interval(Interrupt active after programmable constant state interval Resolution: 1ms, and 100ms)
e. Count over to target interrupt.
CAN bus
- Connect to FPGA SPI bus
- 1 x CAN bus
- 2KV isolation
- CAN 2.0B Active protocol
- Controller: Microchip MCP2515(Industrial grade -40 to 85'C)
- Transceiver: Micro chip MCP2551(Industrial grade -40 to 85'C)
[Other Transceiver manufacturers: Philips, TI, Maxim, ST, Infineon, Atmel]
- 2 pin JST connector(2 pin JST 2.0mm connector )
- Programmable baud rate: from 5K bps Maximum 1M bps or user-defined baud rate
- Time stamp of CAN message
- API library for user development
- CAN bus device status query
Power input
From PCI 104
Maximum card
Maximum 2 cards can be stacked up in one system
Jumper
- INT# & ID select. Please see Appendix.
- SRAM chip capacity select (Used for when auto detection doesn't work only)
Digital I/O connector
- 44 pin 2.0 mm pitch 180 degree with box
- Pin Assignment: Appendix 3(Pin assignment modify)
Software
- Windows XP, XPe and Linux device driver and API
- Windows XP, XPe and Linux demo program
- User interface for DIO, SRAM and CAN bus in Linux and Windows XP embedded
Mechanical
 
Dimensions
90.17 x 95.89mm (3.55"x3.775")
Operating temperature
-20oC to 70oC (-1~158oF) without air flow
Storage temperature
-20~85oC (-4~185oF)
Relative Humidity
0 to 90% @ 40°C, non-condensing (95% @ 40°C, Non-Condensing by request)
Scope of supply
 
1x
PCI 104 Controller card
1x
150mm Digital I/O cable
1x
150mm 2-wire cable for CAN bus
Please
login
for creating product ratings.
Your rating:
Please tell us your opinion. Rate the product on a scale from 1 to 5. A value of 5 means the best possible rating. If you want you also can leave a comment.

Your ratings are honored on many ways. Your report will help other customers to better judge about the products. And you can benefit from reports other customers are giving.

In addition we credit 0.50 EUR for each given rating with comment and 1.00 EUR for each given rating with comment (more than 150 characters) on your account. The credit will be substracted automatically on your next order !

We reserve us the right to delete given comments (for example on attempts to give comments with senseless content, copying of other comments, inserting of foreign content, abusing the system for financing orders). "Fair-use-policy" does apply (as of rule of thumb you should give comments for products which you have purchased already. And your credit account only in rare cases will have 2 or even 3 digits). The credit can only be withdrawn by placing an order. It is not possible to get the credit cash or transferred in an other way.
Specifications
Data sheets and downloads
Customer ratings