News archive
19.01.2021 NEW PRODUCT : CTFPND-10C-4GB128GB-BC, Ruggedized High-End Android 10.1" Barcode TabletPC
Introducing the new 10.1" capacitive multi touch display water resistant media tablet from CarTFT. CTFPND-10C-4GB128GB-BC is rugged design with IP67 rating whilst also being drop proof. With its detailed industrial and mechanical design, the CTFPND-10C-4GB128GB-BC keeps the high performance media tablet in a fashionable and durable housing which is great for outdoor activities. For a better audio and video experience, CTFPND-10C-4GB128GB-BC allows users to experience high definition (HD) content on the device.

● Deca-Core (10x) 1.4-2.4Ghz 64bit CPU, 4GB RAM, 128GB ROM !
● Barcode Reader/Scanner (U3020)!
● High performance media tablet with rugged design with IP67 rating
● Drop proof of 1M
● Dual Cameras (13MP/5MP)
● Speakers for high quality audio playback
● 10.1" sunligh-readable 1200nit capacitive multi touch screen
● True HD 1080P Video Playback & Output
● High capacity battery for an entire days use
● Android 8.1 support
● GPS/WLAN/BT/3G/4G !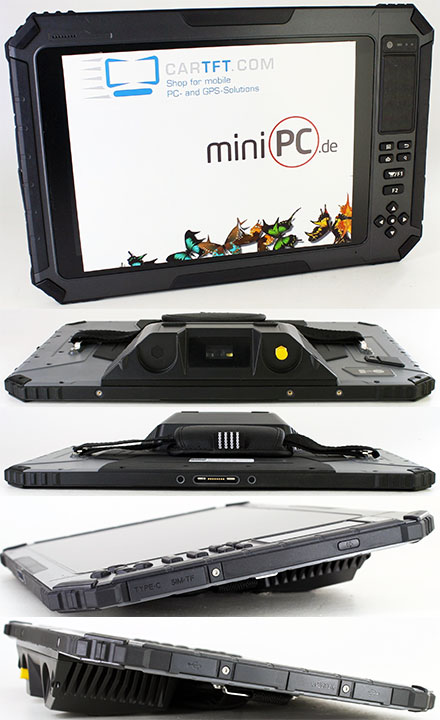 CTFPND-10C-4GB128GB-BC (7" Android TabletPC/PND, Waterproof IP67, Ruggedized, 1.4-2.4Ghz Deca Core CPU/4GB RAM, GPS/WLAN/BT/3G/4G, Android 8.1) [Barcode-Reader]
05.01.2021 NEW PRODUCT: Mitac PH11CMI H410, PH12CMI/PH13CMI Q470 Mini-ITX
Mitac PH11CMI-H410 Thin-ITX (Intel H410) [12V DC-in]

Up to Intel® Comet Lake 10th i7 35W & i5 65W LGA processor
Intel® H410 Chipset
2 x DDR4 SO-DIMM up to 32GB
Support Dual display for HDMI, DisplayPort and LVDS/eDP
1 x M.2 M 2280, 1 x M.2 E 2230, 1 x PCIe X4 and 1 x mPCIe Full size
2 x Intel® Gigabit Ethernet
DC-in 12V
Mitac PH11CMI-H410 Thin-ITX (Intel H410) [12V DC-in]
Mitac PH12CMI-Q470 Thin-ITX (Intel Q470E) [12V DC-in]
Intel® Comet Lake 10th 65W(10cores) LGA processor
Intel® Q470E Chipset
Intel® vPro technology support (Q470E)
2 x DDR4 SO-DIMM up to 32GB
Support triple display for HDMI, DisplayPort and LVDS/eDP
1 x M.2 M 2280, 1 x M.2 E 2230, 1 x mPCIe Full size, 1 x PCIe X4
2 x Intel® Gigabit Ethernet
DC-in 12V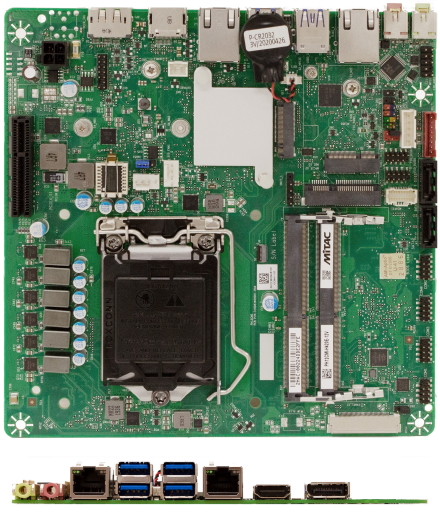 Mitac PH12CMI-Q470 Thin-ITX (Intel Q470E) [12V DC-in]
Mitac PH13CMI Mini-iTX
Up to Intel® Comet Lake 10th i9 35W & i5 95W LGA processor
Intel® Q470 Chipset
Intel® vPro technology support
2 x DDR4 SO-DIMM up to 32GB
Support triple display for HDMI, DisplayPort and LVDS/eDP
1 x M.2 M 2280, 1 x M.2 E 2230, 1 x mPCIe Full size, 1 x PCIe X16
2 x Intel® Gigabit Ethernet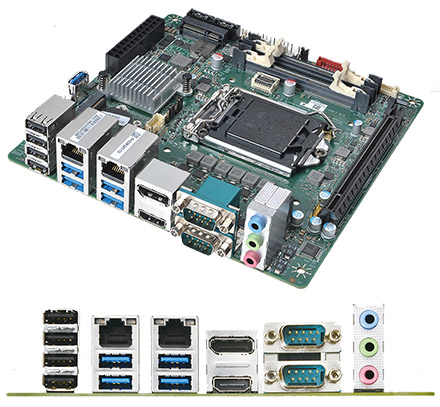 Mitac PH13CMI-H420E-12V Mini-iTX (Intel H420E) [12V DC-in]
Mitac PH13CMI-Q470 Mini-iTX (Intel Q470) [ATX]
Mitac PH13CMI-Q470-12V Mini-iTX (Intel Q470) [12V DC-in]