News archive
18.05.2021 NEW PRODUCT: Akasa Maze Pi4 Raspberry and Turing TN NUC11 enclosure
Akasa Maze (Pro) Raspberry Pi 4 enclosure
AKASA Maze -Black anodised case with striking maze design on top. Embedded dual aluminium core silently cools the Raspberry Pi 4. Features a reprogrammable power button, and concealed SD card for commercial system production.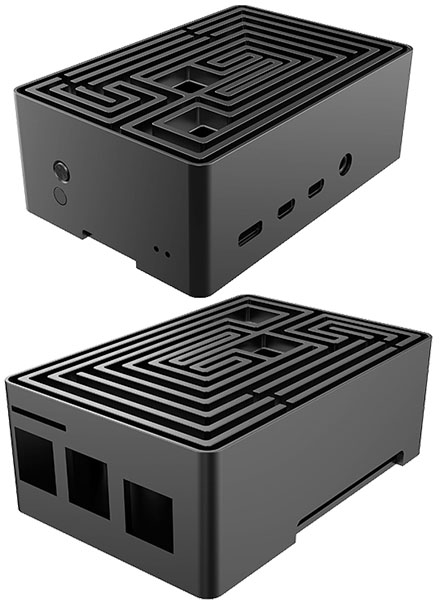 Akasa Maze Raspberry Pi 4 enclosure (A-RA10-M1B)
Akasa Maze Pro Raspberry Pi 4 enclosure (A-RA10-M2B)

Akasa Turing TN Gehäuse (für 11. Gen. Intel NUC Mainboard) [LÜFTERLOS]
AKASA Turing TN - Compact fanless case for Intel® 11th Generation NUC (Tiger Canyon). Internal M.2 SSD heatsink reduces heat and enhances performance.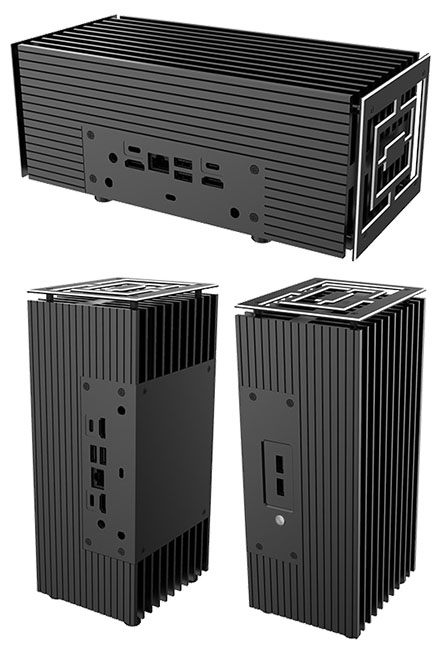 Akasa Turing TN enclosure (for 11. Gen. Intel NUC mainboard) [FANLESS]


11.05.2021 NEW PRODUCT: Jetway product news
Jetway ADM2ISLB/ADM2ISLC (M.2, 1x/2x Gigabit LAN, Intel i210IT/i225IT)

M.2 E-key 2230 Daughter Card, support 1* 2.5GbE expansion
M.2 E-key 2230 interface
Chipset: Intel i225IT 2.5GbE LAN controller
Compliant with the 2.5Gb/s IEEE802.3 specifications
Support Full duplex operation at 10/100/1000/2500 Mb/s, Support Half duplex at 10/100 Mb/s
Wake on LAN function (Depend on M/B 3.3V Standby Power)
Support 1 * 2.5GbE
Accessories 1: 25cm 16P to 16P cable * 1 pcs
Accessories 2: 2.5GbE Bracket (J2ADSLANCNCR10-25G) * 1 set
Size: 22.00 x 30.00 mm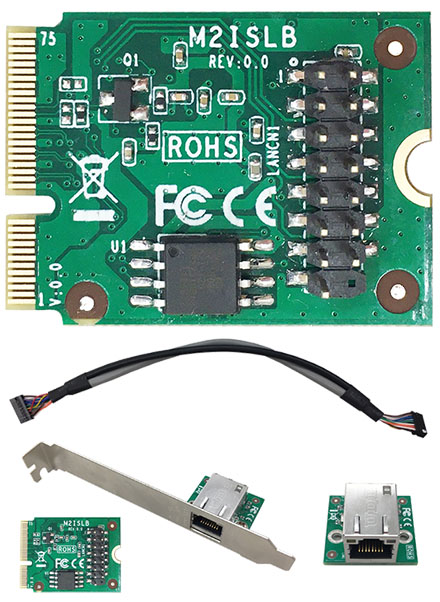 Jetway ADM2ISLB (M.2, 1x Gigabit LAN, Intel i210IT)
Jetway ADM2ISLC (M.2, 1x Gigabit LAN, Intel i225IT)
Jetway HBJC909C9A (Intel Coffee Lake, H310, LGA1151) [4x HDMI, 2x DP, FANLESS]
Intel® LGA1151 Socket Core I3,I5,I7 Pentium Processor (Max 35W)
Intel® Coffee Lake-S H310 Chip
Support Dual Channel DDR4 2133MHz up to 32GB
Support MXM Type A/B VGA Card(Type A or B, Max 75W)
1* M.2 E key Support CNVi, 1* M.2 B key Support 3G/4G Module
2* RS232 (COM1/2 Support 5V/12V TTL), 4* USB3.1, 4* USB2.0, 1* GbE, 4* HDMI, 2* DP, 1* eDP (By MXM)
12~36V DC-in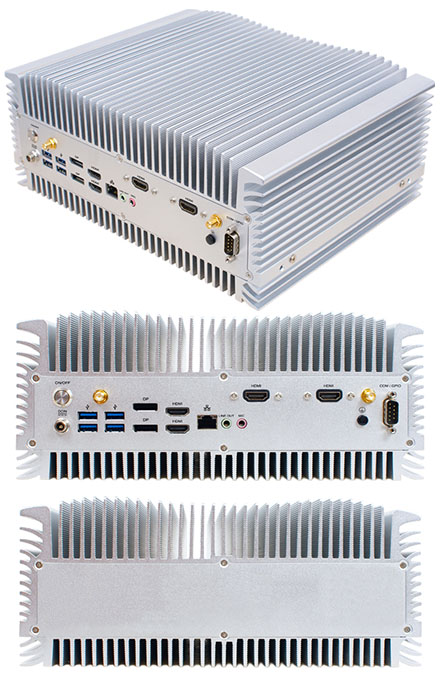 Jetway HBJC909C9A (Intel Coffee Lake, H310, LGA1151) [4x HDMI, 2x DP, FANLESS]
Jetway HBJC313U591(Z)-3160-B (Intel Braswell N3160, 4x 2,24 Ghz) [2x LAN, FANLESS, opt. WLAN]
NUC Form Factor (101mm X 101mm) Design for Fanless Systems
1 * SO-DIMM DDR3L 1600MHz up to 8GB
1 * COM , 1 * SIM Card Slot & 2 * GbE
Supports 2 * HDMI and 1 * DP for 3 Independent Display
Provides DC-12V_3.3A_40W Adapter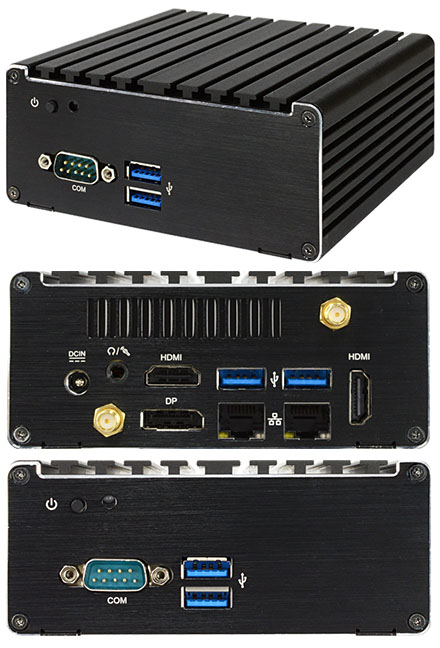 Jetway HBJC313U591-3160-B (Intel Braswell N3160, 4x 2,24 Ghz) [2x LAN, FANLESS]
Jetway HBJC313U591Z-3160-B (Intel Braswell N3160, 4x 2,24 Ghz) [2x LAN, FANLESS, WLAN]
Jetway MI97-30/32 (Intel Bay Trail N2930) [3x M.2 Slot, SIM-Slot, 2x RS232 (5x COM), opt. TPM 2.0]
Support Intel® Bay Trail N2930 SoC Processor
1* DDR3L 1333MHz SO-DIMM up to 8GB
1* 10/100/1000 Base-TX Ethernet Port
1* HDMI, 1* VGA, 1* LVDS (co-layout with eDP)
5* COM (COM1 support RS232/422/485), 1* USB3.0, 7* USB2.0
1* M.2 M-key 2242/2280 (SATA interface), 1* M.2 E-key 2230 (PCIe x1/USB2.0 interface
1* M.2 B-key 3042 (USB2.0 interface) W/SIM card holder
1* SATA II (3Gb/s)
Support 12V DC-in
1* PCIe x1 Slot
TPM 2.0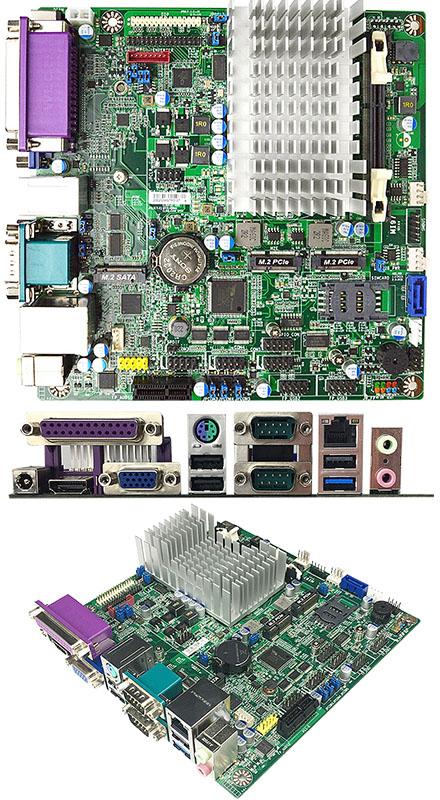 Jetway MI97-30 (Intel Bay Trail N2930) [3x M.2 Slot, SIM-Slot, 2x RS232 (5x COM)]
Jetway MI97-32 (Intel Bay Trail N2930) [3x M.2 Slot, SIM-Slot, 2x RS232 (5x COM), TPM 2.0]
Jetway JNC9AMXM-H310 Thin-ITX (Intel Coffee Lake-S H310, LGA1151) [2x HDMI, 2x DP]
Intel® LGA1151 Socket Core I3,I5,I7 Pentium Processor
Intel® Coffee Lake-S H310 Chip
Support Dual Channel DDR4 2133MHz SO-DIMM up to 32GB
Support 1* MXM VGA Card Socket (MXM:90W)
1* SATA III (6Gb/s) & M.2 (M key 2280, NVMe), 1* PCI-E x1, 1* M.2 E key Support CNVi, 1* M.2 B key Support 3G/4G Module
1* Intel® I219LM GbE, 2* RS232 (COM2 Support 5V/12V TTL), 4* External USB3.1, 4* Internal USB2.0
12 ~ 36V DC-in
Form Factor: 220*200mm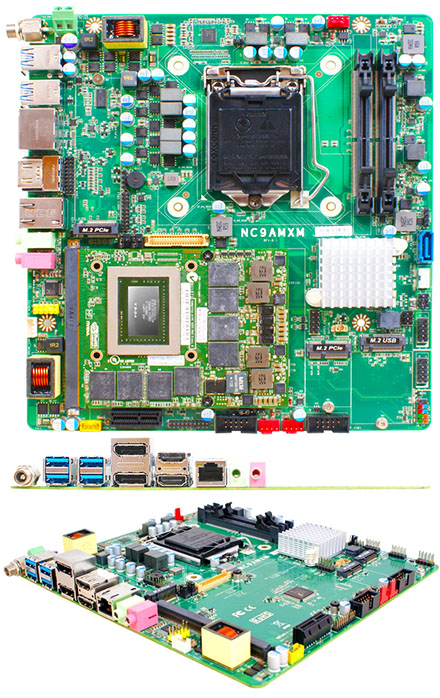 Jetway JNC9AMXM-H310 Thin-ITX (Intel Coffee Lake-S H310, LGA1151) [2x HDMI, 2x DP]
Jetway HBFDF94-00B (Intel Apollo Lake, 9-36V DC-in)
Intel® Apollo Lake SoC Processor (Default: J3455)
Support 1 * SO-DIMM DDR3L-1866MHz up to 8GB
All-aluminum body, produced by casting process
Support Wide Voltage 9~36V DC-in
Jetway HBFDF94-00B (Intel Apollo Lake, 9-36V DC-in)
Jetway JNF796M-H310 (Intel Coffee Lake H310) [2x LAN, 2x RS232]
Intel® 8th/9th LGA1151 Socket Processor (Max. 65W TDP)
2 * DDR4 2400/2666MHz SO-DIMM up to 64GB
2 * 10/100/1000 Base-TX Ethernet Ports
1 * HDMI, 1 * DP, 1 * VGA, 1 * 24-bits Dual CH LVDS support Dual Displays
6 * COM (COM1/2 support RS232/422/485), 4 * USB3.1 Gen.1, 2 * USB2.0
1 * PCIe x16 slot, 1 * M.2 M-key 2242/2280 (SATA/PCIex4) support NVMe, 1* M.2
E-key 2230 (PCIex1/USB2.0) support CNVi
3 * SATAIII (6Gb/s)
Support onboard TPM 2.0 (option)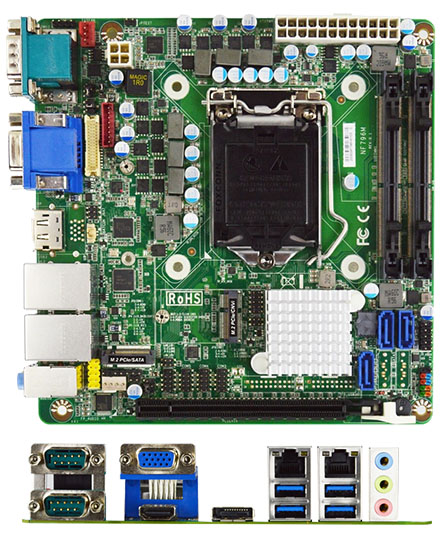 Jetway JNF796M-H310 (Intel Coffee Lake H310) [2x LAN, 2x RS232]
Jetway MM02-10/20 Micro-ATX (Intel Comet Lake-S Q470E/W480E, LGA1200) [4x LAN, 2x RS232]
Intel® LGA1200 Socket supports 10th Gen. Core Processor (Max. 95W)
Intel® Comet Lake-S W480E Chip
4* DDR4 2933/2666/2400MHz up to 128GB support ECC
1* Intel® i219LM GbE, 1* Intel® i210AT GbE, 2* i225LM 2.5GbE
8* SATAIII (6Gb/s) support RAID 0/1/5/10 & 2* M.2 (M-key), 1* M.2 (E-key) supports CNVi, 1* PCIe x16, 1* PCIe x8, 1* PCIe x4, 1* PCIe x1
2* HDMI
2* RS232, 6* USB3.2 (Gen.2), 4* USB2.0
ATX Power Input
Micro ATX Form Factor (244 * 244 mm)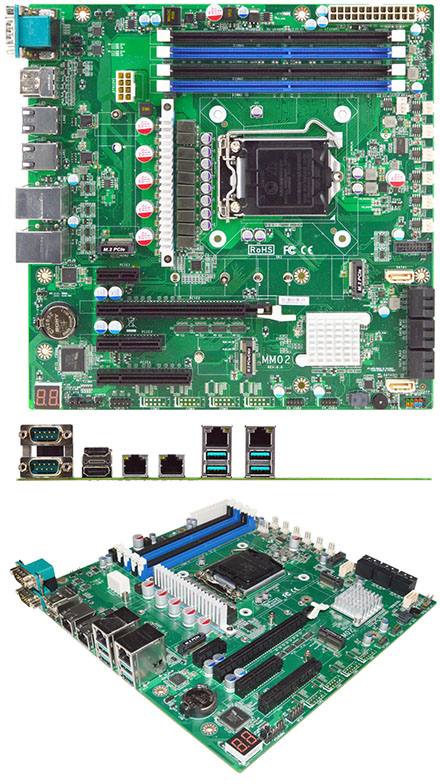 Jetway MM02-10 Micro-ATX (Intel Comet Lake-S Q470E, LGA1200) [4x LAN, 2x RS232]
Jetway MM02-20 Micro-ATX (Intel Comet Lake-S W480E, LGA1200) [4x LAN, 2x RS232]
Jetway MM91-00 Micro-ATX (Intel H110)
Intel® LGA1151 Socket Core i3, i5, i7 & Pentium Processors (Max. 65W))
Intel® H110 Express Chipset
Support Dual Channel DDR4 2133MHz, 2* UDIMM slot up to 32GB memory
2* Intel Gigabit LAN (I219-V + I211-AT)
3* SATA III (6Gb/s), 1* M.2 (M-key 2242/2260/ 2280/22110)
4* USB 3.0, 5* USB 2.0, 10* COM ports (COM1 supports RS232/422/485)
Support TPM function (option)
Micro ATX form factor (244mm x 244mm)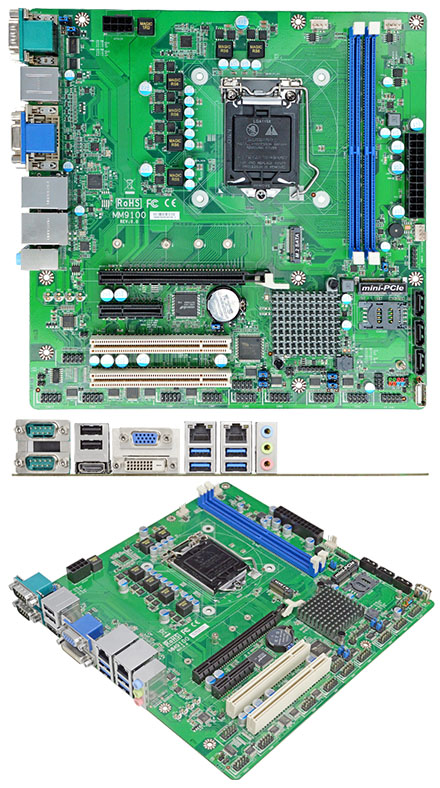 Jetway MM91-00 Micro-ATX (Intel H110)
Jetway JNU95-10210 (Intel Comet Lake-U) [2x LAN, 3x HDMI/DP, NUC, 12-24V DC-in]
Intel® 10th Gen Comet lake i5-10210U 1.60GHz/QC CoreTM MCP Processor
2* DDR4 2666MHz up to 64GB
1* Intel® I219LM GbE, 1* Intel® i211AT GbE
1* SATAIII, 1* M.2 (M key), 1* M.2 (E key) Support CNVi
2* HDMI, 1* DP
1* RS232/422/485, 4* USB3.2, 2* USB2.0
12~24V DC in
NUC Form Factor (101 *101 mm)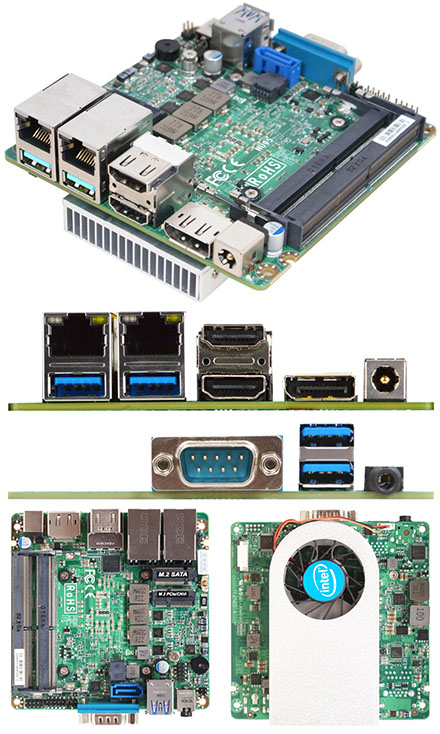 Jetway JNU95-10210 (Intel Comet Lake-U) [2x LAN, 3x HDMI/DP, NUC, 12-24V DC-in]
Jetway MT95-90 (Intel Apollo Lake) [3x LAN, NUC, 12V DC-in] (Erweiterter Temperaturbereich -40°C bis 85°C)
Intel® 10th Gen Comet lake i5-10210U 1.60GHz/QC CoreTM MCP Processor
2* DDR4 2666MHz up to 64GB
1* Intel® I219LM GbE, 1* Intel® i211AT GbE
1* SATAIII, 1* M.2 (M key), 1* M.2 (E key) Support CNVi
2* HDMI, 1* DP
1* RS232/422/485, 4* USB3.2, 2* USB2.0
12~24V DC in
NUC Form Factor (101 *101 mm)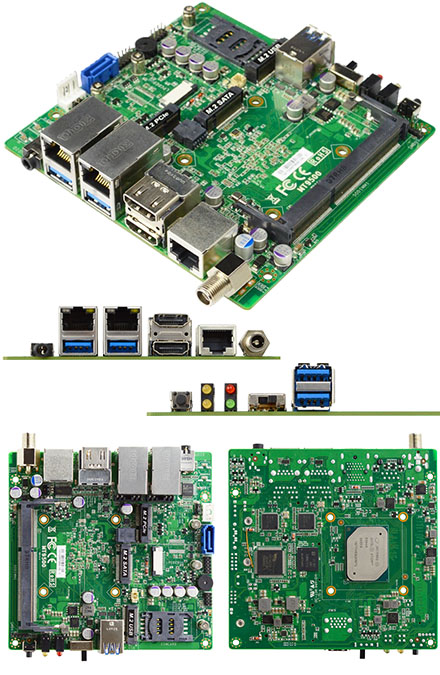 Jetway MT95-90 (Intel Apollo Lake) [3x LAN, NUC, 12V DC-in] (Erweiterter Temperaturbereich -40°C bis 85°C)
Jetway MF05-20/22 (Intel Tiger Lake-U i5-1145G7E) [PCIe 4.0, 2x LAN, 4x HDMI/DP, opt. TPM 2.0]
Intel® Tiger Lake-UP3 SoC Processor (TDP 12~28W)
2* DDR4-3200MHz SO-DIMM up to 64GB
1* Intel® i219-LM 1.0GbE, 1* Intel® i225-LM 2.5GbE
2* HDMI, 2* DisplayPort, 1* eDP, 1* LVDS
4* COM (COM1/COM2 support RS232/422/485), 4* USB3.2 (Gen.2), 4* USB2.0
1* M.2 M-key 2242/2280, PCIe 4.0 x4 interface support NVME
1* M.2 E-key 2230, USB2.0/PCIe x1 interface support CNVi
MF05-22: Onboard TPM 2.0 (option)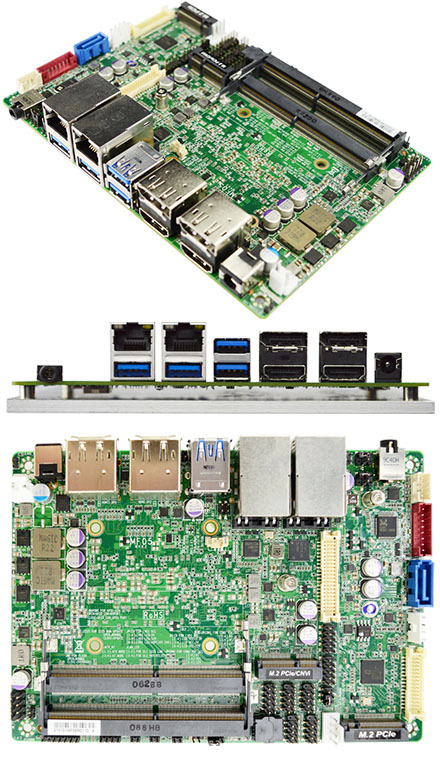 Jetway MF05-20 (Intel Tiger Lake-U i5-1145G7E) [PCIe 4.0, 2x LAN, 4x HDMI/DP]
Jetway MF05-22 (Intel Tiger Lake-U i5-1145G7E) [PCIe 4.0, 2x LAN, 4x HDMI/DP, TMP 2.0]
Jetway JR3399X(L)-2C (Rockchip ARM, 1x/2x LAN)
Rockchip® ARM Cortex A72 (Dual Core) + Cortex A53 (Quad Core) RK3399 6 core 2.0GHz
On board 1333/2GB DDR3L DRAM, On board 16G Flash ROM (Max. 64GB)
Support WIFI and Blue Tooth
3* UART, 1* RS232, 2* USB3.0, 6*USB2.0, 1* OTG (Co-lay USB3.0), 1* HDMI2.0, 1* eDP, 1* 24-bits Dual CH LVDS, 1* Micro SD
Support 4K H.264/H.265 video decoding, up to 60fp 10bits coding
Support 1080P H.264 format video encoding
Support HDMI-in
Support Android 7.1, Debian9.0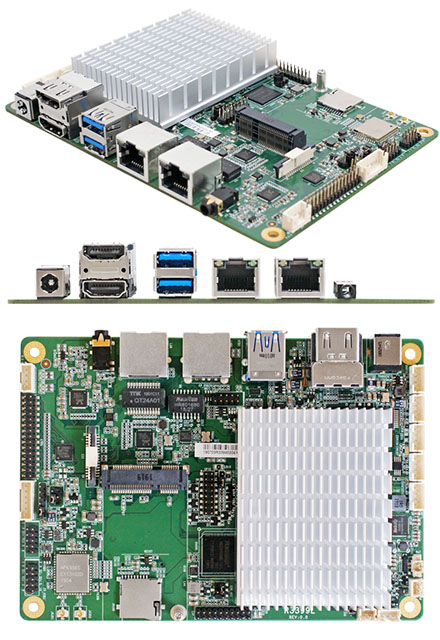 Jetway JR3399X-2C (Rockchip ARM, 2x LAN)
Jetway JR3399XL-2C (Rockchip ARM, 1x LAN)
Jetway NC9L-AH110 ATX (Intel Skylake H310) [2x LAN, 6x USB, 2x COM]
1. Intel® LGA1151 Socket Core i3, i5, i7 Pentium Processor
DDR4 2133MHz SO-DIMM up to 32 GB
1* Intel® I219LM GbE, 1* Intel® i211AT GbE
Support HDMI/VGA, 2* External COM, 4* Internal COM (COM1 support RS232/422/485, COM1/2/3/4 Support 5V/12V TTL)
4* USB3.0, 5* USB2.0 (internal USB2 Support Dongle)
1* PCIe x16 Slot, 1* PCIe x4 Slot, 1* PCIe x1 Slot, 4* PCI Slots, 1* M.2 socket (Support SSD, 2242/2280)
Support TPM2.0 / Audio Codec (optional)
ATX power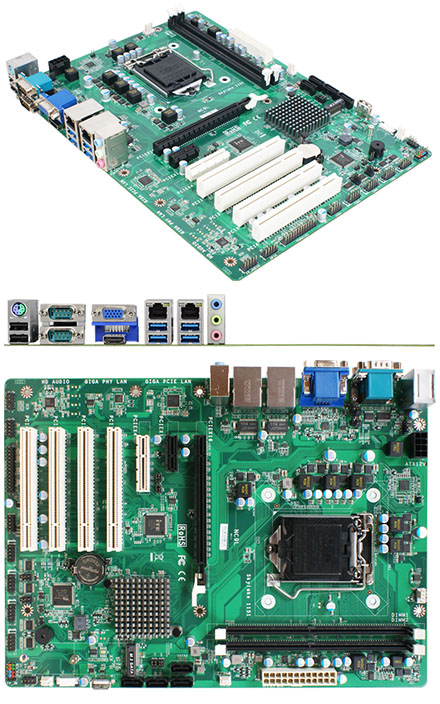 Jetway NC9L-AH110 ATX (Intel Skylake H310) [2x LAN, 6x USB, 2x COM]
Jetway NC8HA-IH310 Thin-ITX (Intel Coffee Lake-S H310) [2x LAN]
Intel® LGA1151 Socket Core I3,I5,I7 Pentium Processor (Max. 65W)
Intel® Coffee Lake-S H310 Chip
Support Single Channel DDR4 2133MHz, up to 64GB
1* Intel® I219-V + 1* Intel® i211AT GbE
1* SATAIII (6Gb/s), 1* M.2 (M key 2242), 1* M.2 E key Support CNVi, 1* PCIe x4 Slot
HDMI/VGA /EDP (CO-lay LVDS) Output
4* RS232 (COM1/2 Support 5V/12V TTL), 4* External USB3.0, 5* Internal USB2.0
Support Wide Voltage 12~24V DC-in
Thin MINI ITX Form Factor (170 *170 mm)
Jetway NC8HA-IH310 Thin-ITX (Intel Coffee Lake-S H310) [2x LAN]